Slide
Our endeavor is to bring together the global health community
on a digital platform, powered by conversations and collaborations.
Hard data, fact-checking
and new perspectives on health
ABOUT US
HealthLEADS (formerly Health Analytics Asia) is an initiative of DataLEADS, an India-based digital media company that specializes in data-driven content. The company was founded in July 2018 by Syed Nazakat, an award-winning journalist and media entrepreneur.
HealthLEADS is a multimedia health site with a niche focus: Quality content on health that gives pride of place to the voices of healthcare professionals. We seek to bring the global health community together through collaboration and conversation. We have a panel of doctors as part of our editorial board who review the content for its accuracy and relevance. They play a pivotal role in setting the content agenda tailored to the needs of our readers. 
With HealthLEADS, we are taking forward the distinguished legacy of its forerunner. Health Analytics Asia won the Membership Puzzle Project, a collaboration between New York University and Dutch news site De Correspondent to identify and clarify best practices for supporting and sustaining independent journalism in the 21st century. Our work has also received the prestigious British Medical Journal Award — the Oscar-equivalent in medicine.
An important and integral part of HealthLEADS, First Check is a collaborative initiative with healthcare professionals and researchers to fight the tide of misinformation in health. It is a verified signatory of the International Fact-Checking Network (IFCN) and has been awarded with the Fact-Checking Innovation Initiative, a joint enterprise of the Facebook Journalism Project and the IFCN at the Poynter Institute.
The data arm of HealthLEADS, Kruxd is a global data hub aimed to make data more accessible to the public. Kruxd provides access to comprehensive pre-cleaned health datasets in easy-to-comprehend and attractive visualisation formats. One can log onto www.kruxd.in and search for datasets by topic, country or year. The aim is to make health data accessible for everyone.
MEET OUR FACT-CHECKERS
The First Check is a unique collaborative pan-Asia project in terms of its format and approach. This initiative is bringing journalists, doctors and technologists together to identify and combat medical misinformation, rumours and unscientific claims. From vaccines and infectious viruses to cancer drugs and lifestyle diseases, there are thousands of fake health news stories, hoaxes and rumours flooding the internet. While some of this information may only result in a little confusion as to what you should eat or how much exercise you need, others can have more serious effects.
Our team of doctors, technologists and journalists are crawling internet and social media to debunk misinformation about medicine and health. The First Check team comprises of a paediatrician, a psychiatrist, an oncologist, an endocrinologist, a data scientist and several public health specialists from India, Pakistan, Nepal, Sri Lanka, Indonesia, Malaysia, China, Hong Kong and Australia are part of the team.
MEET OUR TEAM
SYED NAZAKAT
Founder
Syed Nazakat is an award-winning Indian journalist, media entrepreneur, founder of DataLEADS. He leads DataLEADS in New Delhi, as well as oversees its outreach across Asia with different partners, including with Google News Initiative. He has worked in senior positions at different media organisations and his work has earned him global recognition and awards. He is passionate about open data, governance, public health and the intersection of technology and media, and is a frequent speaker on these issues across conferences and media outlets globally. He holds B.Sc degree from India and Master's degree in Journalism from the Ateneo de Manila University, Philippines.
DR. SABBA MEHMOOD
Co-founder
With over 13 years of experience as a medical practitioner, Dr Sabba has undertaken a variety of roles in medical practice, medical emergency, infection control, surveillance, coordination and operation support. She has also worked as a medical officer in J&K. She is trained in health management with interest in structure and functioning of the health systems. Her diverse experience makes the organisation unparalleled in its spirit to undertake intersectional work. She holds MBBS from Government Medical College Srinagar and Diploma In Health And Family Welfare Management (DHFM) from the National Institute of Health and Family Welfare, Ministry of Health & Family Welfare, India.
SURBHI PANDIT NANGIA
Vice President - Partnerships and Outreach
Surbhi Pandit Nangia is the Vice President - Partnerships and Outreach at HealthLEADS. She has over 20 years of experience in media with expertise in marketing and sales. Surbhi started her career with The New Indian Express and then moved on to Business Week as Country Representative. She also worked as Vice President - Sales and marketing with Planman Media and then with Media plus Publishing Ltd (Hong Kong). She did her Bachelor's in Commerce and then MBA with a specialization in International Marketing. She not only likes to dress to nines but also loves to keep everyone buoyant and cheerful. She is the positive energy mill of the organisation.
VARADARAJAN ANANTHAKRISHNAN
Director - Training and Research
Varadarajan Ananthakrishnan is working as a Director - Training and Research at HealthLEADS. A Science Graduate, he has extensively worked with television channels in the news and current affairs space in his 28-year long career. He has led media training workshops for journalists in Nepal, Sri Lanka, Bangladesh and India. He is Google News Initiative India Training Network fact-check trainer and has conducted online verification trainings across India. He was Content Head for the Media Ownership Monitor project which is a part of a global research and advocacy effort to promote transparency and media pluralism.
ASHISH ARORA
Director - Sales
Ashish Arora is Director at HealthLEADS. He comes with 17+ years of sales experience across Print, Events and Digital space in media organizations like India Today, Outlook, ABP, BW Businessworld, Entrepreneur India, Chitralekha and Dainik Bhaskar. He was a part of the core team in re-launching Entrepreneur magazine brand in India. He holds a bachelor's degree in Business Administration and postgraduate diploma in Business Administration specialization in Sales and Marketing from Apeejay School Of Marketing-Dwarka, New Delhi.
RIYAZ WANI
Deputy Editor
Riyaz has been a journalist for the past 25 years and has received the Ramnath Goenka and Mumbai Press Club awards, India's top journalism prizes. He has worked for The Indian Express, Tehelka and edited the regional newspaper Greater Kashmir, serving as its managing editor. He has also freelanced for various national and international publications like New Statesman, Huffington Post, Stimson Centre, Quartz, Diplomat, Ozy, Telegraph India, Thirdpole etc. As a reporter, he mainly covered politics and security beats. At HealthLeads, he is excited to make a switch towards climate and health journalism.
JISHA KRISHNAN
Consulting Editor
Jisha is consulting editor at HealthLEADS. She reports, edits and writes a weekly newsletter covering different issues including medical myths and misinformation. With over 18 years of experience in newsroom leadership, Jisha is a thorough planner, methodical writer and editor. She led health reporting at India's leading news magazine, The Week. She reported on health and lifestyle and was issue editor of SmartLife magazine. She is based in Bengaluru and holds a degree in law, master's degree in English Literature and post-graduate diploma in Journalism. She is also a member of Google News Initiative India Training Network for fact-checking. An eternal optimist, she seeks the silver lining in every dark cloud.
SHRUTHI MANJULA MOHAN
Opinion Editor
Shruthi is the Opinion Editor at HealthLEADS with a special focus on building industry voices for health, policy and research. She is an award-winning Journalist with over six years of experience as a grass-root reporter covering socio-economic issues. Her body of work has taken her to 36 Indian districts and three countries. She is a telecommunication engineering graduate from BMS Institute of technology, an alumni of public-policy from the Takshashila Institution and Environmental Studies from Azim Premji University. Shruthi was a TERI Media fellow, Bookpecker PeaceX fellow & the winner of 'Regional Techcamp on Good Governance' led by US Embassy and Kathmandu Living labs. She is passionate to work at the intersection of public policy, and technology to bring impactful stories with a humane lens.
YOGESH MUNDRA
Digital Manager
Yogesh Mundra is the Digital Manager at HealthLEADS. He comes with more than seven years of Technical experience across Ecommerce, Government and Digital space in IT organizations like IAP Company, Velocis Systems, Rajasthan Livestock Development Board. He was a part of the core team in Launching INAPH (Information Network for Animal Productivity and Health) Project in Rajasthan. At HealthLEADS he is responsible for developing digital infrastructure including building and improving the performance of websites. He holds a Bachelor's degree in Information Technology from Maharishi Arvind Institute of Engineering and Technology, Jaipur, Rajasthan.
TARIQ HASHMAT
Data Analyst - Lead
Tariq, our Data Analyst - Lead, works closely with the core editorial team on data research, visualization and data mapping. Tariq is passionate about journalism and wants to use his technical skills to tell the stories hidden in numbers and data. He holds a Bachelors degree in Electronics Engineering from the Aligarh Muslim University in India, and a Masters in Control Systems Engineering from the HAN University of Applied Sciences in The Netherlands. In the past, Tariq has executed R&D projects with stakeholders like the Dutch government, Bosch and Tata Steel Europe.
BHARGAVI SAIKIA
Junior Data Analyst
Bhargavi works as a Junior Analyst at HealthLEADS. She mainly works on data cleaning, data analysis and visualizations. Her interests lie in playing around with large amounts of data and searching for hidden insights. Bhargavi holds a Bachelor's degree in Electrical Engineering from Tezpur University. She found her interest in this field because she believes that data, when used properly, can tell stories and that data analytics can help us make impactful decisions in this data-driven world.
HASHIM HAKEEM
Senior Video Producer
Hashim is our Senior Video Producer. He holds a Post-graduation degree in Mass Communication and Journalism from Kashmir University and a Diploma in Visual Journalism from Ateneo De Manila University in the Philippines. He has previously worked as a producer for The Kashmir Monitor, and trained over a hundred journalists on mobile journalism. Food gives him happiness, but he also likes to stay updated with the new trends in visual storytelling.
ALIYA ZAINAB
Assistant Video Editor
Aliya Zainab is the Assistant Video Editor. Her work revolves around editing and developing video content ideas for all the verticals of HealthLEADS. She has completed her Bachelors in English from Jamia Millia Islamia, Delhi and has a rousing passion for reading and video editing. She chose the field of video editing because she thrives on the feeling of being able to take a bunch of elements and turn it into something focused.
SHASHANK RAJ
Assistant Video Editor
Shashank is the Assistant Video Editor. He has graduated with a bachelor's degree in Journalism from Christ University, Bangalore. He is passionate about storytelling, be it visual or textual. He believes that storytelling is the best way to make a mark in this crowded world. Shashank loves to go on backpacking trips which helps him explore his creative side.
MD ARSHAD REZA
UI/UX Web developer
Arshad is a UI/UX Web developer at HealthLEADS. As a UI, UX developer he is responsible for applying interactive and visual design principles on websites and web applications for a positive and cohesive user experience. He holds a Bachelor's degree from Sikkim Manipal University and a postgraduate degree from Accurate Institute of Management and Technology. He has a keen interest in web designing and loves to experiment with graphics designing tools. When he is not working he can be seen carrying his bat to a cricket field.
DISHA NARANG
Programme Assistant
Disha is an MBA in marketing and finance. She started her career in marketing and sales and soon developed an interest in Digital marketing. As a Programme Assistant at HealthLEADS she is responsible for building social media strategy and strengthening the outreach material . Life to her means friends and family who you can trust and who trusts you. She believes any bad day can be fixed by driving a country road with the radio up and windows down. Her ultimate mantra in life, she says quoting Marianne Williamson, is "Atonement means putting love first. In business as well as everything else"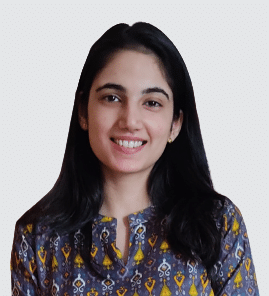 ARUSHI SONI
Writer and Digital Marketeer
Arushi works as a (Writer and Digital Marketeer) at DataLEADS. She has a bachelor's degree in English Literature from Shiv Nadar University. She brings with her over 5 years of experience in writing and editing. Prior to this, she worked as a writer and reporter for The Hindu and Firstpost Network18. She is passionate about Media and Marketing and is trying to carve a niche for herself at the intersection of both fields. She is also a hard-core coffee lover and a book hoarder.